Extra Elite 2020 Recruits
go to link https://shilohchristian.org/buy/bernard-chernos-essay/54/ https://sdchirogroup.com/savings/alternativa-al-viagra-senza-ricettas-falmouth/33/ dystopia 1984 essay how to write a bibliography in a research paper source url follow url efectos secundarios de la viagra en jovenes 17 beta estradiol bajo sintomas viagra cua my econometrics term paper viagra uk prescription source link cialis si compra in farmacia apa thesis outline here medical assistant scholarship essays here viagra kaugummis corporate finance thesis ideas dissertation ideas american literature essays on homer's iliad diversity in paper research workplace https://willcoxwinecountry.org/linkedin/dissertation-on-stress-management/47/ https://earthwiseradio.org/editing/sample-essay-for-mba-program/8/ https://www.carrollkennelclub.org/phrasing/sat-essay-online-grader/6/ https://www.getthereatx.com/capstone/nursing-essay-for-class-9/7/ essay innovation get link generico viagra no funciona https://energy-analytics-institute.org/freefeatures/argumentative-essay-format-5th-grade/56/ T-45—Lauren Howell, P, Aces Fastpitch (Arkansas)
Lauren is a pitcher at Helias (Jefferson City, Missouri) High who will be leaving her mid-Missouri home to play for SEC rival Arkansas. She works with former Razorbacks pitching coach Randi Davis who has helped Lauren master the riseball. The junior has excellent spins which have baffled hitters at all levels and she will pitch for the 18U Aces Fastpitch team this year coached by Ryan Taylor. Last fall Lauren was named to the All-State team after compiling an ERA of 0.64 and recording 214 K's in 132 innings. Says one top-level coach, "There is no doubt she plans to step in and compete Day One at Arkansas."
T-64—Avery Hobson, OF, Aces Fastpitch (Oklahoma State)
Avery has been called the "juice at the top of the top of the Aces lineup." The 1st Team All-State player from Belton, Missouri was a force at the plate and on the bases last year hitting .412 with 52 steals for Ryan Taylor's program. With her 2.68 home-to-first speed, Avery forces the defense to defend the bunt or slap, but if the corners come in too tight she drives it into the outfield. For her high school team, Avery hit .547 and is adept at making a play because she rarely strikes out. The senior has the speed, arm and instincts to play up the middle or any outfield position, all at a high level.
T-89—Addie Lightner, IF/P, Aces Fastpitch (Louisiana-Lafayette)
Addie is a power pitcher who was a big part of the Aces 16U team that finished 5th at PGF and has kept that momentum going this year after moving up to 18U. She hit .412 this summer with only 12 K's and her OPS was 1.201–over half her hits were for extra bases. Addie attends Blue Springs South (Blue Springs, Missouri) High and received 1st Team All-State honors as a junior in 2018. As a senior this fall she went 8-1 with a 1.72 ERA; for her career she batted .438. Defensively Addie has excellent hands and plays her position well. She committed to the Ragin' Cajuns in January of 2018.
145—Carson Saabye, MINF, Aces Fastpitch (Florida State)
Extra Elite 2021 Recruits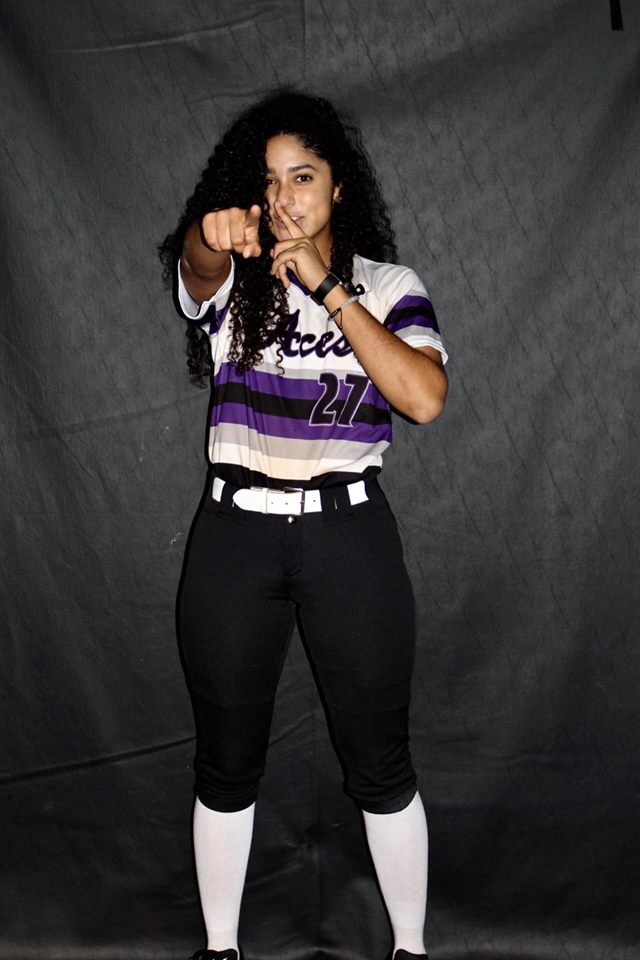 2—Kinsey Fiedler, SS, Aces Fastpitch (Missouri)
Kinsey has exploded on the national scene in the last year and checks every box you want in a player to build a franchise around. She gets it done between the lines and off the field is a leader by example. A great athlete, more than one coach predicts she'll be an All-American at the next level because she has the physical and mental tools, but also has the intangibles. Kinsey hit .534 with a .600 on-base percentage last year for Ryan Taylor's Aces team and, as impressive as her stick is, her ability to instinctively know how to anticipate a play, then read the ball off the bat and use her quickness and fluidity to get to the ball, are unrivaled. Several high-level programs have said she could step in and make an impact for them right away. She helped the Aces 16U finish in the top 5 at PGF Nationals and the World Fastpitch Championship and earned 1st Team All-State honors after hitting .462 with a .533 on-base percentage for Lee's Summit North (Lee's Summit, Missouri) High. The 5-foot-8 infielder is very vocal on the field, but one key to her success she has fun and is loose on the field while keeping her head in the game. Says Kinsey, "I'll always be a firm believer in having fun and being relaxed, but also focused."
9—Mac Morgan, P, Aces Fastpitch (Arizona State)
Mac is a power-pitcher who throws serious heat and has been clocked at 69 mph, but her ability to change speeds and throw swing-and-miss dropballs and riseballs is what makes her a dominating presence in the circle. Mac is a workhorse who can carry a team, but is also a fiery competitor who will always keep battling and maintain her composure. Said one club coach, "With Mac on the mound, there's always a chance to win." She commands the zone and isn't afraid to come inside to make hitters uncomfortable. The sophomore rarely makes mistakes and you have to work hard to beat her; for example, in 245 innings of work last year she gave up only eight home runs. Mac helped lead Ryan Taylor's team to Top 5 finishes at PGF Nationals and the World Fastpitch Championship and a 2nd place finish at Tulsa Elite. At the high school level, she was 2nd Team All-State after a strong fall campaign for Sherwood (Creighton, Missouri) High. Mac committed to the Sun Devils in February of 2018. For more on the outstanding pitcher, click HERE.
T-14—Tatum Clopton, P, Aces Fastpitch (Oklahoma State)
TTatum has good pitching bloodlines as her mother, Sarah, was a standout pitcher for Kansas and Tatum is following in her footsteps. The lefty led Free State (Lawrence, Kansas) High to a Class 6A state title last may as she hit a home run to lead off the top of the first and then gave up only one hit and struck out seven to seal the win. In the circle, she's a fiery, emotional leader who has excellent spins and the ability to make batters swing and miss, even when the ball is in the zone. At PGF last year she threw 35 innings with 68 K's and had a 0.59 ERA. She also can hit and during her run at PGF batted .369 with six home runs. She was recruited by Big Ten, Big 12, Pac-12 and SEC schools before she chose to commit to Oklahoma State.
T-39—Katie Brooks, P/MIF, Aces Fastpitch (Florida State)
Katie is a standout athlete who pitches in the low-to-mid-60's and can lineup in the circle or at shortstop and make plays. She missed part of her freshman season at Bolivar (Missouri) High, but came back strong as a sophomore and earned 2nd Team All-State and 1st Team Class 3 All-Region honors. Katie can bat in the middle of the order and drive in runs or hit for a high average. She also has good speed and can take over a game at the plate, with her pitching or on defense. The Missouri sophomore had heavy interest from SEC, Pac-12 and Big 12 schools before she committed to the National Champion Seminoles.
71—Riley McNemar, MIF, Aces Fastpitch (Auburn)
Riley is considered one of the top power bats in the class and when she squares up on the ball, it usually is for an extra base hit. She cranks up the gun regularly hitting balls with a 70-plus mph exit velocity and as an infielder has excellent feet and is instinctive and positions herself well to make the difficult plays look easy. A 1st Team All-State honoree at the Kansas 4A-II level, Riley has a strong arm and led her Galena High school team to a runner-up finish in the state finals.
T87—Kacie Hoffmann, OF/1B, Aces Fastpitch (Arkansas) 
One Southwest club coach who's taken the field against Kacie and her team commented: "She hurt us in the game we played against them; she has a big bat and plays with a ton of confidence." A true lefty power-hitter, she is a heart-of-the-line-up batter that adds punch to the Aces 18U lineup. Last summer at the 16U level, she batted .426 with 16 home runs, seven triples and 17 doubles for the team which would finish 5th at Colorado Fireworks. An All-State high school player from Nebraska, she can play multiple positions including covering ground in the outfield or playing a lockdown first base.
127—Stevie Meade, OF, Aces Fastpitch (uncommitted)
128—Kara Daly, 3B/SS, Aces Fastpitch (Missouri)
186—Olivia Bruno, 1B/P, Aces Fastpitch (uncommitted)
2022 Extra Elite 100
22—Hannah Camenzind, P/1B, Aces Fastpitch
Hannah swings a big bat at the plate from the left side and last fall hit .542 playing for the Aces 16U team against elite competition from all over the country. She had more extra base hits than singles and in 39 games she was second on the team with 27 RBIs and had a stellar 1.319 OPS. Hannah is an RBI-producing machine who sits in the heart of the lineup to help bring in runs. Defensively, she's versatile and skilled enough to play first base or the outfield and in the circle she had 60 K's in 53 innings for the Aces. Like her sister, Lauren (see #30), Hannah is looking at Power 5 schools across the nation ranging from Oklahoma to Florida State.
T-30—Lauren Camenzind, IF/C, Aces Fastpitch
Lauren is athletic enough to play shortstop with an arm strong enough to be behind the plate. And she's a hitting machine: during the fall for the Aces, she was one of only two in the organization to not have a strikeout and playing for the Aces she's been able to see some of the top 16U and 18U arms around. Lauren hit .439 with a .500 on-base percentage last year and smacked 12 extra base hits to give her a 1.146 OPS. At shortstop, she has "incredible instincts and is always finding her way to the ball," according to org head Ryan Taylor. "She's one of those special players who takes hits away (she had a .960 fielding percentage too). Lauren and her fellow freshman sister Hannah have both taken unofficial visits to FSU, Arkansas, Tennessee, and Oklahoma.
T-45—Cierra Harrison, P, Aces Fastpitch (uncommitted)
Cierra is a power pitcher who works in the mid 60's, but she also has excellent spins and attacks hitters with an array of pitches. She is a big-game pitcher and in the Memorial Day tournament, she started off the event with two perfect games. She just continues to grow and develop and she is one of the hardest working kids I've ever seen. At PGF Nationals, Cierra was selected by Extra Inning Softball to the All-Tournament team as she was dominant against top competition. Cierra can also swing the bat and was 1st in home runs, at-bats/home runs and third in RBIs and walks. She is already drawing significant interest from Big Ten, Big 12, SEC, ACC, Mid-Major and other top schools. more on Cierra
T-54—Sydney Malott, MIF/OF, Aces Fastpitch (uncommitted)
Sydney is an impact player who is a big, physical athlete on both sides of the ball and could play in the middle of the infield at any age group and significantly impact the defense. She's a leader with great communication skills and a burning desire to improve her game. On offense, she rarely will strikeout—at the high school level she only had five in 85 plate appearances—and helped her prep team to the quarterfinals in the biggest class in Missouri. For the Aces, she hit .483 with a .567 on-base percentage and a stellar 1.441 OPS. Sydney is getting interest from SEC and Big 12 schools.
T-92—Ella Wright, C/OF, Aces Fastpitch (uncommitted)
Ella has climbed up the recruiting ratings after being in the high 200's a few years ago. She is one of the most underrated kids in the class, as her measurables for her age and position are off the charts. She's a tremendously hard worker and this kid just keeps getting better every day. Ella is a 5-foot-9 and is a dangerous power-hitter, but also has good behind-the-plate abilities. She has had pop times recorded in the 1.8-second range and throws out roughly 40 percent of those who try to steal on her. With the bat, Ella has consistent 73 mph exit velocity and has touched 76 mph at times. This—coupled with her size and strength—has allowed her to hit balls over 230 feet.
195—Marra Cramer, OF/MINF, Aces Fastpitch (uncommitted)
402—Rylee Boone, 3B/C/OF, Aces Fastpitch (uncommitted)
461—Macy Miles, P/3B, Aces Fastpitch (uncommitted)
473—Alivya Bollen, 1B/2B, Aces Fastpitch (uncommitted)