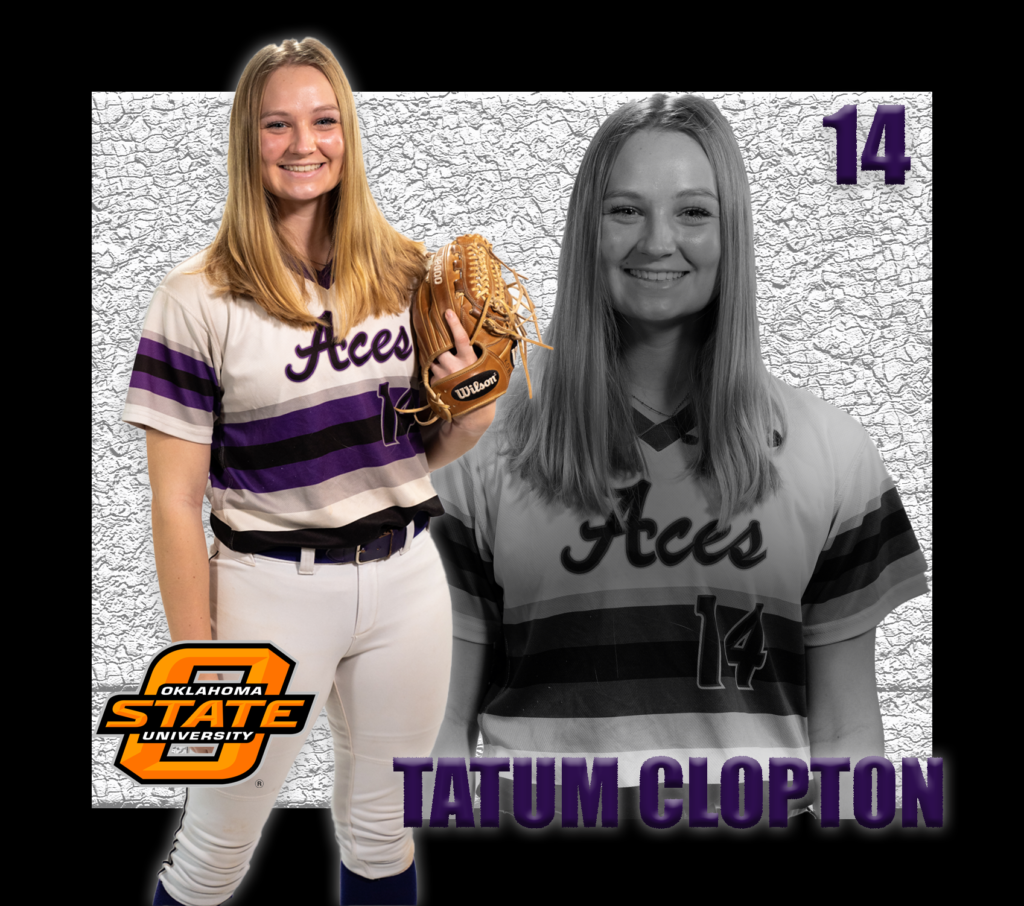 Lawrence, KS 2021 RHP OK State Signee
Ranked #7 by FloSoftball Hot 100 and #10 with Extra Innings Elite 100
Gatorade Player of the Year – Kansas 2019 and 2020
2X 6A State Champion – Kansas 2018, 2019
Sunflower League Player of the Year – 2019
First Team All-State – 2018, 2019
7 | Tatum Clopton, P | Aces Fastpitch (Oklahoma State)
Oklahoma State-commit, Clopton climbed up the rankings as one of the best pitchers in the nation after a very successful summer beating top-ranked teams and winning the state title for Free State High School. Not afraid to show emotion on the mound, Clopton deals her swing and miss pitches with confidence. Her pitch deception lies in her ability to throw the ball in the zone breaking plane vertically or horizontally. Clopton's pitching chops were passed down from her mother, Sarah (Workman) Clopton who was the ace at Kansas leading the staff in strikeouts, shutouts in the 90s. She was also named team MVP and All-Big 12 First Team. Clopton's maturity on the mound is evident gathering from a recent interview after the state title, "There was a point in the game where I told myself I need to focus. I knew I was tired," Clopton said. "Every pitch is going to take something out of you, and you need to make sure it's the best pitch you can make." During PGF Nationals, she threw 35 innings with 68 strikeouts with a .589 ERA. When she suits up for OSU, she will be ready.
T-10—Tatum Clopton, P, Aces Fastpitch (Oklahoma State)
Tatum has really improved her craft this fall and increased her velocity significantly to the point she's throwing in the mid-60's. After a couple of strong years at the 14U and 16U age levels, she transitioned to 16U and 18U last fall and became a dominant pitcher, thanks in part to improved off-speed pitches. She had two Top 5 finishes in Colorado and a 13th place finish at PGF Nationals and in one notable contest at the Sun Classic against another Top 10 team, threw 15 innings with 22 strikeouts and a 0.93 ERA. Tatum is from an athletic family as her mother, Sarah Workman, was All-Big 12 at Kansas and her father, Aaron Clopton, was the former Kansas and Marshall pitching coach. Said Ryan Taylor, her Aces club coach: "Tatum was born to pitch." She's also been a two-time Kansas 6A state champion at Free State (Lawrence, Kansas) High and was the Gatorade Player of the Year. She was recruited by many Power 5 programs before committing to OSU.